The market for Industrial hemp is projected to grow over 30% in coming years, reaching well into the billions of US dollars. With the growing awareness among consumers, increased legalization, and diverse application of hemp in myriad industries like textile, food, paper, and pharmaceuticals, we expect this growth to remain strong.
So how are growers and manufacturers to package, store, and transport large quantities of material safely while protecting their delicate harvest? PacTec, Inc. has the perfect solution, one that is revolutionizing the way hemp is safely harvested, packaged, and shipped across the world.
Where basic bulk bags have been used in the past, hemp growers are quickly realizing the shortcomings and looking for a better bag to ship their product. In business for 3 decades, we've been innovating flexible packaging solutions for a variety of industries and have answered the call of our friends in the agricultural hemp industry with our self-standing LiftPac®.
FIBC Types
There are basically 2 types of FIBCs to consider when looking for hemp bulk bags: breathable and secure. Breathable bags are commonly known as feed bags, grain sacks or simple bulk bags. They are very basic in nature and are an affordable way to contain material. Secure bags typically have several features that offer increased protection to the bags' contents. They may be constructed from a coated outer layer to prevent air intrusion, may contain an interior liner, or even be treated in a way to completely seal them closed.
PacTec, Inc. offers both, but as a waste packaging solutions provider, we specialize in offering more than a commoditized basic bulk sack. While many of our customers have use for these in their processes, when it comes to protecting your hemp harvest investment, we suggest you consider our affordable, self-standing FIBC instead.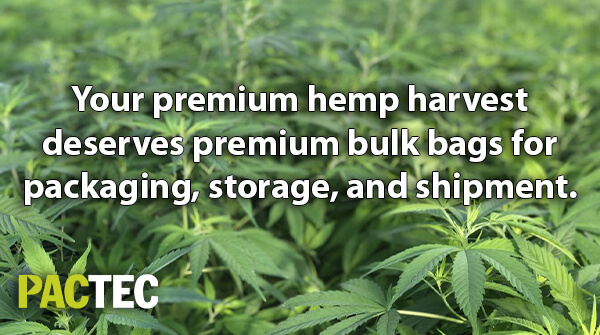 Why the Self-Standing Hemp Bulk Bag is a Good Fit for You
There are several reasons that a secure, specialized bag is the ideal solution to protect your hemp, especially when it is affordable. Here are a few of the key features of PacTec's self-standing LiftPac® that you will benefit from:
All 4 sidewalls of the bag (plus the floor) have integrated double wall cardboard to allow the bag to stand unsupported while being loaded. This eliminates the need for additional equipment or manpower to hold a bag open. Plus, they arrive to you collapsed for easy storage until ready to use. Basic bulk bags do not have this feature.
Perhaps the best feature of our hemp FIBC is the integrated polyethylene liner. We've already secured it in place in the bag for you, so it is immediately ready for use. Plus, the liner prevents decomposition by eliminating outside elements (moisture, smoke, dusty contaminants, etc.) from entering the bag. You will also be able to maintain the internal conditions by tying the liner layer secure.
While many other bulk bags are duffle topped that must be tied or taped shut, our bags feature a zippered outer top for easier closing and security. Once your product has been loaded into the bag, simply gather the liner and zip the bag shut. Many of our users also implement tamper-resistant devices for added quality control.
The heavyweight outer shell of our bag is coated to prevent moisture and air from ruining your product and causing mold growth. This coated material is also used along the corner seams for added strength and stability and the 4 lifting straps for ease of use.
The rigid cardboard walls, reinforced corners, and zipper closure combine to allow our FIBCs to safely stack without crushing the internal contents. Of course, care should be taken in your stacking method, but this feature aids in shipping more product in a single load. Other soft-sided basic bulk sacks do not allow for maximizing shipment capacity in this way.
Because our self-standing LiftPac® was originally designed for other industries, you benefit from its very generous 3,000+ lb safe working load. Perhaps more relevant though is the cubic yard capacity (~36 ft3) for your harvest.
You work hard during the growing season to offer a superior product, why take a chance on it being ruined during packaging, storage, or shipment? Even though our self-standing LiftPac® offers many features, it is still a very affordable way on ensuring your harvest is protected.
To learn more, receive product specifications, or to get a free, no-obligation quote, please click here or give us a call anytime.