Chemicals play a vital role, either directly or indirectly, in many workplaces including industrial plants, refineries, laboratories, agriculture and construction sites. But mishandled, these chemicals can wreak havoc on your operations and expose you to environmental fines or penalties. PacTec has been manufacturing chemical spill containment solutions since the 1980's and has helped thousands of businesses store their chemicals to properly mitigate spills to prevent ground/soil contamination, employee hazards and EPA fines.
For over 30 years, our spill containment product line has grown to include solutions for every possible scenario, working environment, and budget. If you are in the market for spill berms to meet SPCC compliance or to save yourself the headache of EPA fines from spills, you have come to the right place. While PacTec is a global packaging provider, most of our spill trays and spill berms are proudly made in the USA in rural Louisiana. Plus, our facilities are certified as meeting all requirements of ISO 9001:2015 and we maintain a strict quality assurance program – all to bring the best spill solutions to you at competitive prices with short lead times.
Let's explore some best practices for containing chemical spills in the workplace, determine which products will best suit your needs and devise a plan for responding to a chemical spill if it >were to happen.
What is Chemical Spill Containment?
Simply put, chemical spill containment is the act of preventing a spill of chemicals or containing its spread. Of course, the cliché of "an ounce of prevention is worth a pound of cure" hold true here – as preventing a chemical spill should be your top priority, while containing and cleaning if one occurs comes secondary. Spill containment and spill prevention are often part of a more comprehensive spill response or SPCC Program (Spill Prevention, Control, and Countermeasure) as outlined by the EPA for oil spills. These plans often include various types of spill containment procedures and products that work together to form an all-encompassing strategy.
Spill Containment vs. Secondary Containment
So, you've heard of secondary containment, but not sure what differentiates it from spill containment? Most chemicals, including oil and fuel, are stored in primary containers like drums or tanks. These are the primary containers. Because those containers can leak or fail, the EPA requires a second level of containment – secondary containment. Unfortunately, the EPA does not spell out explicitly what secondary containment must consist of (leaving it up to your interpretation), but it does define its purpose: the ability to contain the full liquid volume of the primary container until it can be properly cleaned/contained.
https://www.epa.gov/oil-spills-prevention-and-preparedness-regulations/secondary-containment- calculation-worksheets
Types of Chemical Spill Containers
Spill berms are one of the most common and affordable ways to prevent spills and contain potential leaks under pumps, generators, frac tanks and under chemical containers. PacTec offers a wide range of spill containment berm solutions for various industries, applications, price points and chemical compatibilities. Below are the most common types, but as a custom manufacturer, PacTec can design and produce to your exact specifications:
Pop-Up Spill Containment Berms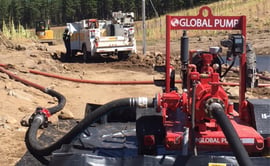 Our Pop-Up Spill Berm is a single-piece containment designed with integrated interior brackets. These berms are offered in a variety of sizes to accommodate most standard equipment and are made from a variety of UV and chemical-resistant materials.
Wire Bracket Spill Containment Berms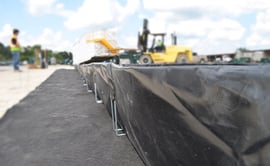 Our Wire Bracket Spill Containment Berm is our most affordable spill berm. This berm utilizes sturdy galvanized steel wire brackets that pinch and slide into the sidewall pockets keeping them securely in place. This is a great alternative to traditional L- bracket berms and are cheaper than rigid drip decks.
Hinge Bracket Spill Containment Berms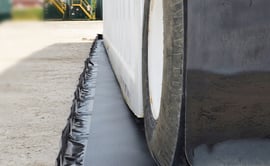 PacTec's Hinge Bracket Spill Berm allows for utilization of shorter 6" sidewalls while benefitting from easy drive-on and off capabilities. The integrated hinges easily stay upright to provide ultimate spill protection but can fold to a compact size when not in use.
Foam Sidewall Spill Berms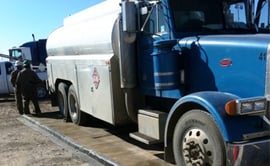 Our Foam Sidewall Spill Berms are constructed from economical and lightweight hard or soft foam. These berms provide valuable spill containment, allow for equipment to be moved in and out with ease, and are commonly used for chemical spill prevention and in the oil and gas industry.
Hurdle-Bracket Spill Containment Berms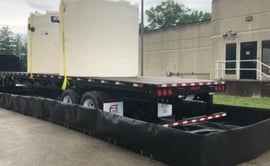 The Hurdle-Bracket Spill Berm is great for secondary containment or to contain potentially large volumes. Using hurdle brackets allow for taller sidewalls – which translates to more volume in a smaller footprint. These are constructed from chemical resistant materials and lightweight aluminum hurdle brackets.
Collapsible Spill Tray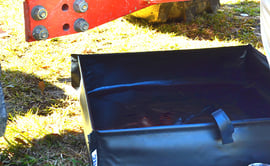 Our Collapsible Spill Tray is the smallest, most compact, and portable spill containment solution available through PacTec. Offered in 2'x2' and 3'x3' sizes, vinyl construction makes these trays resistant to most chemicals. Best of all, when not in use, they easily roll for maximum storage. This is also a great item to add to your spill kits.
Chemical Spill Response – Action Guide
Even with proper prevention and a sound plan, chemical spills are inevitable. A proper response to any chemical spill or release can be abated by following the 4 C's of Chemical Spill Response. Keep in mind, these are broad strokes and you or your company should determine specific actions for each step and assign responsibility to appropriate employees.
1. Communicate the Spill
In the event of a chemical spill, immediately notify and alert any employees in the vicinity. A supervisor or communications specialist may need to get involved to alert a larger group of people, whether employees or the public. If necessary, call emergency services to respond if there is imminent danger. Make sure to take note of the important details to be communicated during an event, such as the type of chemical, estimated amount or volume of leak/spill, location of incident and if any injuries were incurred. This is also a good time to review evacuation plans, proper PPE usage and locations of eye wash or emergency shower stations.
2. Control the Incident
Once the situation has been assessed and safety of personnel is ensured, TAKE ACTION! This is your attempt to contain, control, or stop the spill as safely as possible. If a container has tipped over, safely adjust it to an upright position. Controlling the situation could also be as simple as closing valves or plugging a puncture. This step may also involve shutting down equipment if a spark could worsen conditions or increasing ventilation to disperse potentially hazardous fumes. Whatever the situation, all attempts to control spills should be done safely and with the proper PPE for the environmental conditions and chemical spilled.
3. Contain the Danger
Now that we've contained the spill let's stop it from spreading. First, cordon off the area to prevent people or equipment from inadvertently spreading the contamination to other locations. Typically, this involves absorbing the spill safely to prevent contamination of other surfaces, especially if there are storm drains or soils nearby. The best practice for utilizing absorbents is beginning at the outermost perimeter and working inwards toward the center.
4. Clean up
Finally, we clean! Depending on the chemical, this step may involve many different methods but typically consists of collecting all spilled chemicals and materials used in the containment phase. Absorbents and cleaning equipment should be collected and disposed of safely and adequately in garbage bags for non-hazardous chemicals or in appropriate containers for disposal and labeled correctly according to environmental regulations in your area. Also clean all surfaces that were contaminated with an appropriate cleaning solution, be it detergent, bleach or neutralizing chemicals. Personnel involved should also take care to wash hands and other body parts that have been chemically exposed.
Your facility may already have a chemical spill plan in place, likely mirroring the steps above. If you have not already done so, make yourself familiar with these steps and suggest any necessary additions to prevent such incidents.
Conclusion
PacTec is ready to assist you in building a safe chemical spill containment plan by recommending spill containment solutions tailored to your needs. For 30+ years, we have been proudly helping customers safely contain their chemicals, all while staying in compliance with the EPA and the SPCC. We encourage you to check out our Spill Containment solutions and reach out to our team of experts with any questions.