"Your self-standing cubic yard bags are fantastic! The boxes from another company didn't even compare"
This was what the regional buyer for one of the largest specialty waste companies in the United States recently wrote in to tell us. They provide remediation, disposal, recycling, and beneficial reuse solutions for contaminated soil, dredged material, drill cuttings, and hazardous and non-hazardous wastes.
He went on to say that "the zipper top of the PacTec bag makes all the difference in the world. Thanks again for getting them to me so quickly. I needed them for my job first thing this morning."
Not only is our newest LiftPac® the ONLY self-standing, UN rated zipper-top bag currently on the market, but it's proving to be the perfect solution for disposal of hazardous waste.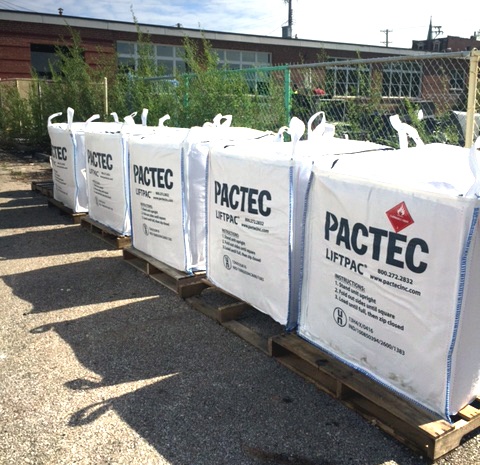 QUICK FACTS:
UN Rated "X" for Packaging Groups I, II and III
Patented zipper closure
Cardboard sidewall supports hold bag open for easy filling
Glued in 6 mil PE liner provides ultimate leak protection
UV Coated, weather resistant outer layer
Lightweight and compact
Collapsible for easy storage
Ideal for most waste streams
Superior to metal drums and corrugated boxes
Lower disposal costs compared to alternatives
Available for immediate shipment
For more information on the PacTec LiftPacs®, click here. If you'd like to discuss your project with one of our knowledgeable sales professionals, give us a call today at 800.272.2832.