Biological and organic waste disposal is exponentially more important during a pandemic – or when preventing the next one. We've seen wildlife and domesticated animals spread pathogens that are harmful to humans, and we'll continue to see that unless we implement the right waste disposal procedures now.
"Improving sanitation, waste disposal and pest control are ways to help stop these outbreaks emerging and spreading. More widely, it is about changing the way our environments are managed and the way people interact with them." - Professor Tim Benton on BBC
While we may never be able to fully eliminate diseases that are carried and spread by animals, we can take the proper precautions to dispose of the potentially infectious and contaminated materials using the proper packaging. In our most recent history, examples can be found of instances where proper packaging solutions were able to help combat a pandemic. Let's dig in!
Animal Waste and Pandemics
First things first, let's get a better understanding of how animals and animal waste can spread diseases. Zoonotic diseases are germs that can spread from animals to people. These germs can be viruses, bacterial, parasites, or even fungi - and proper waste management plays a big role in preventing their spread.
Today, scientists at the CDC estimate that more than six out of every ten known infectious diseases in people could have spread from animals and their debris. Additionally, three-quarters of new or emerging infectious diseases have likely stemmed from animals.
H1N1, mad cow, the bird flu and now, the coronavirus, have all been attributed to animals. In each instance, an infected animal was either consumed or came in contact with a human, who then contracted the disease and passed it onto other humans - hence the start of a pandemic.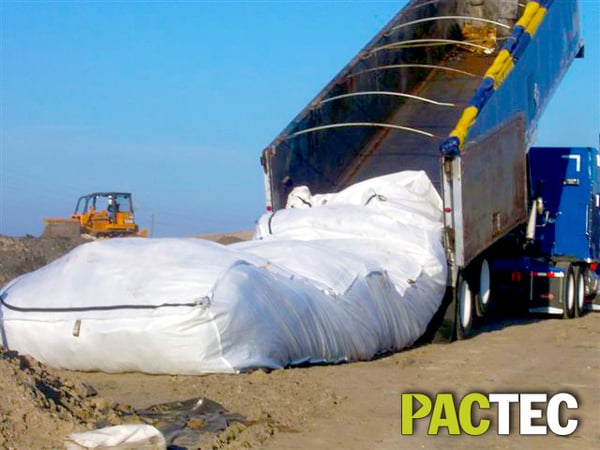 In the mid-2000s when the avian flu began spreading across the world, a huge emphasis was placed on safe transport packaging for organic waste. Poultry farmers and markets needed a better way to handle contaminated bird products and diseased animal carcasses. TransPacs® proved to be one of the most effective solutions on the market at that time and has continued to be a top-performing product for large volume animal waste since then.
Whether we're talking about safe packaging solutions during a pandemic or for regular daily use, it's become clear that biological and organic waste transportation and packaging solutions are an essential part of preventing the spread of diseases.
Preventing Contamination Issues
The patented TransPac® is the ideal solution for preventing the spread of disease and contamination because of its large size and zipper closure. The zipper closure allows for quick and easy use, ensures contaminated materials stay securely inside, and keeps workers safe.
Another reason the TransPac® helps prevent contamination is due to the high-quality construction materials. The outer polymeric fabric is tough to tear, and most of these packages have inner lining layers for leak prevention or puncture resistance - creating a safe storage environment and extra security against leaks/spills.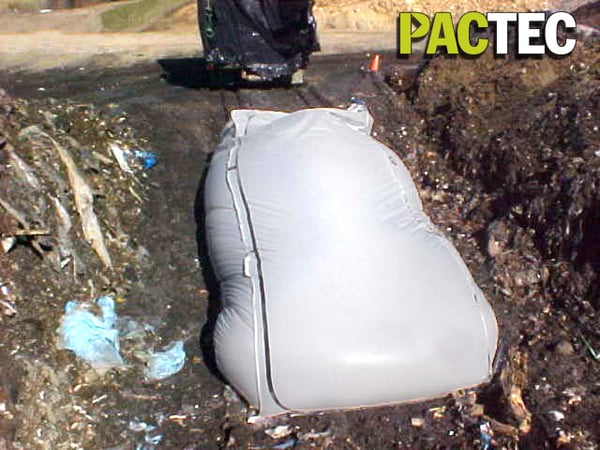 The TransPac® can safely contain wastes such as molds, powders, debris, diseased animal carcasses, animal waste, and more. Our waste solutions aren't just designed to make life easy - they're designed to protect people from the possible spread of new pandemics and provide an easy way to transport waste to the proper disposal site.
Easy and Secure Transportation of Contaminated Waste
Livestock, poultry, and aquaculture industries generate billions of tons of annual waste that must all be handled safely. That's why we've focused heavily on developing safe transport packaging options, like our TransPac®. We designed these packaging solutions so they could easily be transported on trailers, trucks, and other common methods of transport.
The most common sizes for TransPacs® are to fit in 20- and 30-yard roll-off containers. Since mitigating spills is essential, users can now simply load the bag in the container, dump the waste into the bag, and then slide the bag right out at the point of disposal with minimal contact. Minimal contact = lower risks of contamination or spill.
This process of loading and unloading with our waste packaging solution also means there's no need to clean the container after each transportation. This minimizes worker exposure to dangerous waste and allows for more trips and more efficient schedules.
Keep in mind that we can also manufacture packaging waste solution bags to handle high heat wastes. If you're transporting contaminated ash, tar, and other by-products that are still hot, don't worry – we have custom packaging solutions that can handle it.
Bags can also be customized to your preferred loading method, making things even easier and safer. Talk to us about adding spouts for chutes, open tops for bucket loaders, or other options.
In Conclusion
After dealing with today's pandemic, we can only hope that more landfills, farms, livestock centers, markets, and other locations will focus on improved waste management.
Custom packaging solutions play a huge role in preventing the spread of animal-to-human diseases - and we're here to provide some of the best flexible waste packaging options on the market.
If you have any questions about safe animal waste transportation, our TransPac®, or custom solutions, please reach out to our team today. PacTec Inc. is always happy to develop new, innovative solutions for those in need.
Want to learn more about the TransPac
®

? Download our brochure.