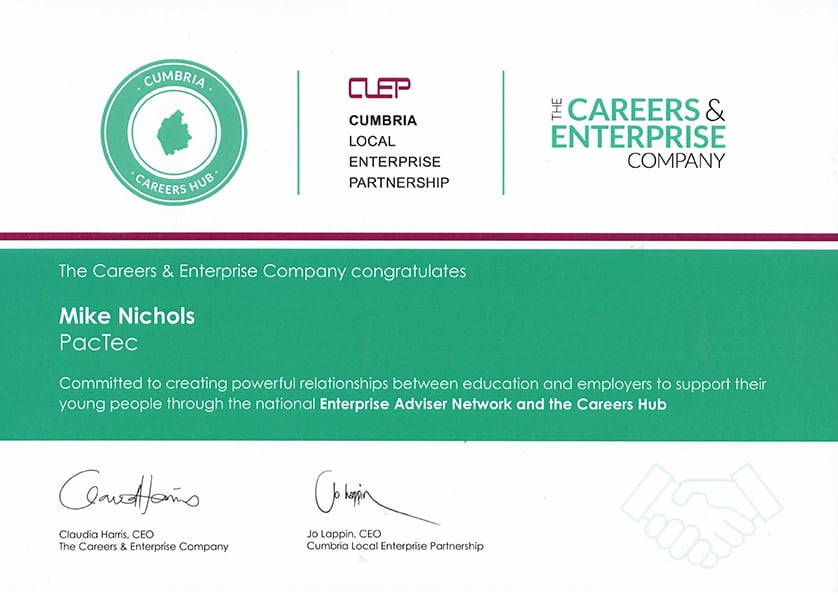 PacTec Inspiring Young People in Career Pursuits
Mike Nichols, Managing Director of PacTec EPS, Ltd. has recently been congratulated by the Cumbria Local Enterprise Partnership (CLEP) for his commitment to the program. As an En
terprise Adviser, Nichols volunteers time supporting local schools by delivering guidance and support to prepare young people for engaging careers. He also speaks to kids, providing inspiration and a glimpse into the many opportunities awaiting them upon graduation.
The Enterprise Adviser Networks has discovered from employers that they feel students aren't entering the world of work after graduation with the right skills or knowledge. Government has also acknowledged this and launched the Careers Enterprise Company - focused on bridging the gap between the world of education and employment.
Across the North West, Inspira manages the Cumbria and Lancashire Enterprise Adviser Networks on behalf of the Local Enterprise Partnerships (LEP) and the Careers Enterprise Company. Matching schools with business volunteers and providing a robust development plan - the networks have proven to be very successful.