PacTec EPS, Ltd. are again proud to support the Friends of Chernobyl's Children (FOCC) West Cumbria branch by sponsoring a wonderfully fun activity day. Each year, children from the Chernobyl zone located in Belarus who were affected by the nuclear disaster spend time in the UK to receive respite care. They stay with local host families in West Cumbria on the edge of the beautiful Lakes District who volunteer their time, home and care to provide the children with a welcome change of environment.
The FOCC, with support from others, fund yearly visits to the UK for children from the most desperate circumstances in the contaminated area of Belarus. For a month each year they receive recuperative healthcare, English lessons and, most importantly, lots of loving tender care from their UK host ​families.
"It is such a pleasure for us to do more than offer nuclear waste packaging to these affected communities," says Mike Nichols, PacTec EPS, Ltd. Managing Director. "By hosting the children affected from this disaster, most of whom are still poverty-stricken, we can have a more profound effect on our future."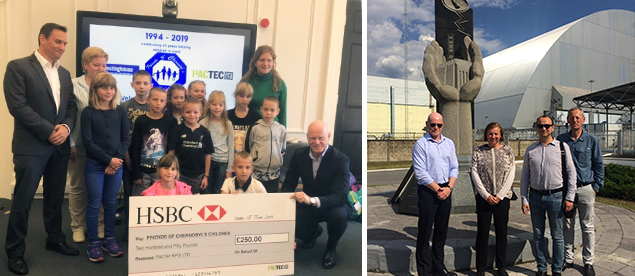 PacTec have recently visited the Ukraine and the Chernobyl zone providing support to remediation and clean-up activities seeing the devastation first-hand, and the fantastic ongoing work by the State Agency of Ukraine on Exclusion Zone Management (SAUEZM) team.
As a group, FOCC organize a range of activities for all the children throughout the 4 weeks, all of which rely on volunteers and sponsorship from local companies.
The 1986 Chernobyl accident is considered the most disastrous nuclear power plant accident in history, both in terms of cost and casualties. In excess of 80,000 children are still experiencing life-changing effects of the radiation. In Belarus alone, just across the border from the Chernobyl site, 25% of the country's farmland and forests have become nuclear wasteland.