At PacTec, we're always working to innovate and offer better solutions for your waste needs. We manufacture packaging options and engineer solutions so you can safely and easily contain spills and prevent accidents.
That's how we came up with the concept of the "BermPac®," one of the most cost-effective solutions for spill containment on the market. Our spill berms are a convenient method of staying compliant while offering superior protection from spills, leaks or hazardous discharge.
Keep reading to learn more about the BermPac®, what it can be used for, and how it'll revolutionize the way you contain and prevent spills.
What Are BermPacs®?
BermPacs® are portable spill containment solutions made from a variety of materials that are UV, chemical and acid resistant. They're lightweight, flexible and extremely durable.
The BermPac® is designed to maximize the safety and efficiency of spill containment and leak prevention procedures for various industries.
You'll often see BermPacs® used by or with:
Frac Tanks
Mining operations
Fuel Tanker Trucks
Industrial Rental Equipment
Pumps and Generators
Drum Storage
Roll-off Containers
Fleet Rental Companies
Whether it's used as a first or secondary containment solution, the product prevents costly spills and makes it easy to stay in compliance.
Which BermPac® is the Best Option for You?
The BermPac® comes in a variety of sizes, materials and styles to help meet the needs of any job requirements. Each style serves a unique purpose and helps address some of the common pain points you'd find with a traditional spill containment or leak prevention solution. To understand which spill berm best suits your needs, we'll give you a brief highlight of each spill containment product offered by PacTec.
Hurdle-Bracket BermPac®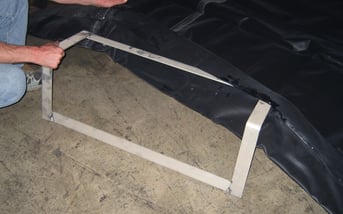 Our Hurdle-Bracket BermPac®, aka the "rigid sidewall" solution, was manufactured to give that extra bit of security to prevent leaks or spills. The larger aluminum hurdle brackets slide into the sidewall, creating a rigid wall eliminating the need for hose bridges. The removable brackets make this berm a great solution for on-the-go or temporary projects.
A consumer might choose a Hurdle-Bracket BermPac® over another product if they need extremely sturdy walls but don't want to spend a lot of money on a more permanent containment solution. This is one of our most commonly purchased products, and once you see how easy it is to use, you'll understand why.
Wire Bracket BermPac®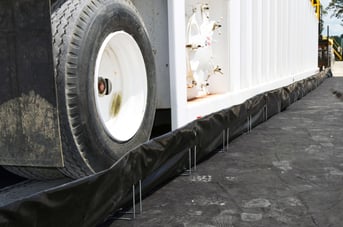 Our Wire Bracket BermPac® is the most commonly used solution for many industries. It has UV, chemical and acid resistant sidewalls that are set up with lightweight, heavy gauge galvanized steel wire brackets. The brackets are designed to securely slide into the sidewalls and stay put even during high winds.
One might choose the Wire Bracket BermPac® if they're seeking a budget-friendly alternative to the traditional L-bracket spill berm. It's simple to set up and is reusable and repairable in most cases.
Hinge Bracket BermPac®
The Hinge Bracket BermPac® can be manufactured from a variety of chemical and acid-resistant materials and the integrated hinge brackets provide the ultimate spill protection in a ready-to-use single-piece item. The brackets can be removed or replaced if necessary and are seamlessly incorporated into the berm to prevent tripping hazards.
With the quickest setup time in the industry, the Hinge Bracket BermPac® is perfect for someone that needs a fast solution. It can also be folded up and transported from job site to job site. It's sleek, compact, and easy to use!
Pop-Up BermPac®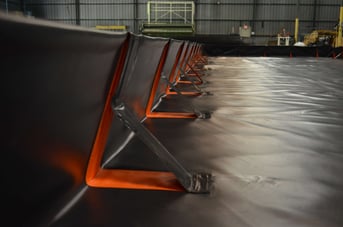 The Pop-Up BermPac® is designed to be a single unit as well, with permanently attached folding internal brackets encased in an extremely durable material. The permanently attached brackets cannot be removed, lost, or stolen, making transportation a safe and easy process.
With exceptional durability and surprisingly quick setup time, our Pop-Up BermPac® is an incredibly popular choice amongst companies that are always on the go.
Foam Sidewall BermPac®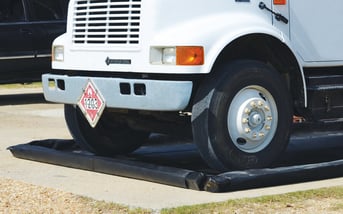 Most of our BermPacs® feature hard walls, but we also offer economical options that have sidewalls made of soft or hard lightweight foam. The foam can be sewn into the berm or installed in a removable sleeve.
We generally recommend the Foam Sidewall BermPac® to customers who are looking for something that fits into a lower budget or if equipment will be regularly moved onto and out of the containment. It's the ideal solution for oil fields. If you're unsure which kind of foam (hard or soft) would best suit your particular job site needs, we can help guide you.
Collapsible BermPac®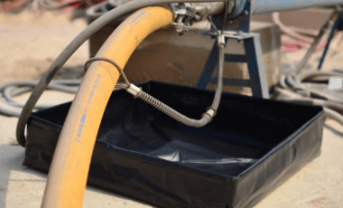 Last but not least, let's go over the qualities and benefits of our portable spill berms. The Collapsible BermPac® is our most compact spill solution – small enough to fit behind the seat of your pickup. This spill tray can be made in a variety of common spill tray sizes, with the same extra-strength material as our traditional berms. They're ideal for drips and spills and can be set up in seconds to catch a last minute leak. Best of all, they collapse and roll into a portable solution ready to use.
Need a Customized BermPac®?
Our in-house engineering department will work with you to custom design and create solutions for your specific job site requirements.
In the past, we've developed customized berms for railroads, floating job sites, and even wellheads. We firmly believe that our company has the capabilities necessary to create the perfect spill containment solution for your organization.
We also offer a host of customizable add-ons. The berm accessories include replacement wire brackets, steel hose bridges, ground matting, track guards, covers, and more. Whatever your brand wants or needs from a BermPac®, we can probably make it happen.
In Conclusion
At PacTec Inc., we engineer spill containment solutions that go beyond standard requirements and expectations. We understand that consumers are looking for safe and affordable berms – and we've adapted our extremely popular BermPacs® to meet the needs of dozens of different scenarios.
Reach out to our experts today to discuss sizing, efficiency, and many other details to find the perfect solution for your situation.