There aren't many in our industry that can wear the title of "pink hard hat, steel toe boot wearing fashionista" – but our Kalyn Carter, Gulf States Territory Sales Executive, does so in style. In her nine successful years at PacTec, Kalyn takes pride in her ability to help customers find unique, affordable solutions to their waste problems and looking cute while doing it 😉

Kalyn's helpful attitude is contagious within #teampactec, as she brings her frontline knowledge of customer problems and experiences to light. Working nonstop, her mind is always abuzz and pinging our engineering and production teams to resolve some of the craziest issues customers present her. As the voice of the customer, she sets the bar on PacTec's Customer Service that we all strive to emulate.

A constant problem solver and product expert, Kalyn (a Louisiana State University graduate #geauxtigers and former CSR) quickly climbed the ranks at PacTec by developing solutions for customers unique waste challenges. Building momentum through chaos, her days are anything but predictable. Whether she's on the road walking job sites, doing trade shows, meeting prospects, or just stopping in to visit, she always makes time to simultaneously churn out quotes, orders, field calls, and mentor younger members of the sales team.

"That's the life of a sales rep – but it's so fun and interesting. Building friendships while solving customer problems is so important to me. And it doesn't hurt that I can talk to a wall because talking to people is a huge part of what I do for a living," she quips.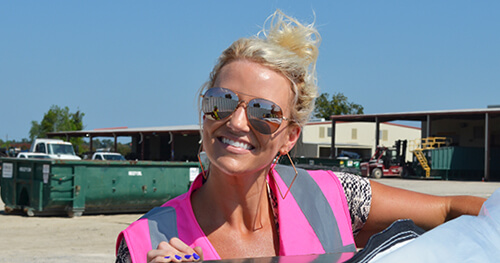 "I take great pride in seeing my customer's problems/complaints turn into successes – like getting thousands of
LiftPacs®
to a customer in Houston within hours to assist with their terrible flooding, or assisting my Environmental Services customers safely and effectively package their hazardous waste for transport and disposal – while saving thousands and meeting all DOT regulations."
With the Gulf States territory as her main focal point, Kalyn has comprehensive and authoritative knowledge on providing innovative solutions that meet the needs of our region's chemical plants, industrial sites, and refineries. Additionally, Kalyn is our one-stop-shop for everything concerning micron ratings, flow rates, solidification agents, and more when it comes to our dewatering filter liners and GeoPac® dewatering tubes.

When she's not saving the world for our customers, Kalyn spends her time with family and friends cooking, swimming, hanging out at the beach, or finding any excuse to celebrate something large or small. She dreams of owning a boutique to put her shopping skills to good use, but in the meantime, she regularly purges her closet (to make room for her shopping addiction 😉) and new trends. Plus, she loves any opportunity to help her friends outfit their pieces with shoes, accessories, and jewelry to make a statement. Connect with her on LinkedIn for waste packaging, spill containment, or dewatering solutions (maybe even a fashion tip or two).