Employees of PacTec, Inc. of Clinton, LA continued their annual charitable fundraising efforts for 2016 by making a $1,500 donation to St. Jude Children's Research Hospital. Funds were raised in $2 increments in exchange for wearing blue jeans on dedicated days. PacTec, Inc. then matched dollar-for-dollar what employees contributed, empowering their team to make a bigger difference. The staff voted for St. Jude as their charity this year due to the impact it has on young children nationwide. "St. Jude means a great deal to us, especially because many of us know local families who have benefitted from the services," says Trey Castleberry, Marketing Director at PacTec, Inc.
The mission of St. Jude Children's Research Hospital is to advance cures and means of prevention, for pediatric catastrophic diseases through research and treatment. Consistent with the vision of founder Danny Thomas, no child is denied treatment based on race, religion or a family's ability to pay. Unlike any other hospital, the majority of St. Jude funding comes from individual contributions. And thanks to generous donors, families never receive a bill from St. Jude.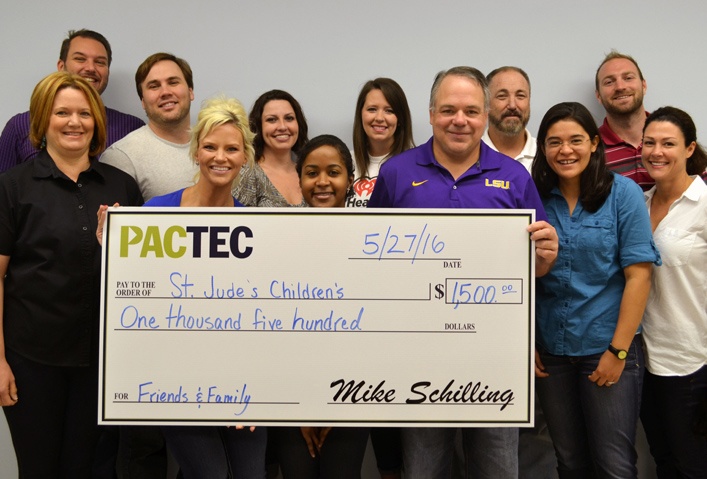 PacTec, Inc. is a global provider of soft-sided waste packaging, including spill containment berms, dewatering solutions, IP-1/IP-2 lift bags, specialty nuclear products, tarps, liners and more. Their corporate offices are based in Clinton, LA with sales and distribution locations across America. They also own and operate manufacturing facilities in Subic Bay, Philippines and Clinton, LA. The company has a corporate philosophy of manufacturing packaging, but engineering solutions where none exist. With over 11 US and 1 British patent, they have built a reputation for developing innovative solutions for today's problems. Established in 1989, they have grown from a humble operation in Clinton, LA to a global leader with over 250 employees worldwide. For more information, please contact Trey Castleberry.