CLINTON, La. - PacTec, Inc. was recently recognized by UCOR as the 2019 Small Business of the Year for the third time in the award program history. UCOR, an AECOM-led partnership with Jacobs leading the cleanup efforts of the U. S. Department of Energy's (DOE) Oak Ridge Reservation, recognized companies whose extraordinary customer service and unique solutions improved UCOR's productivity and efficiency that lead to cost, time, and resource savings.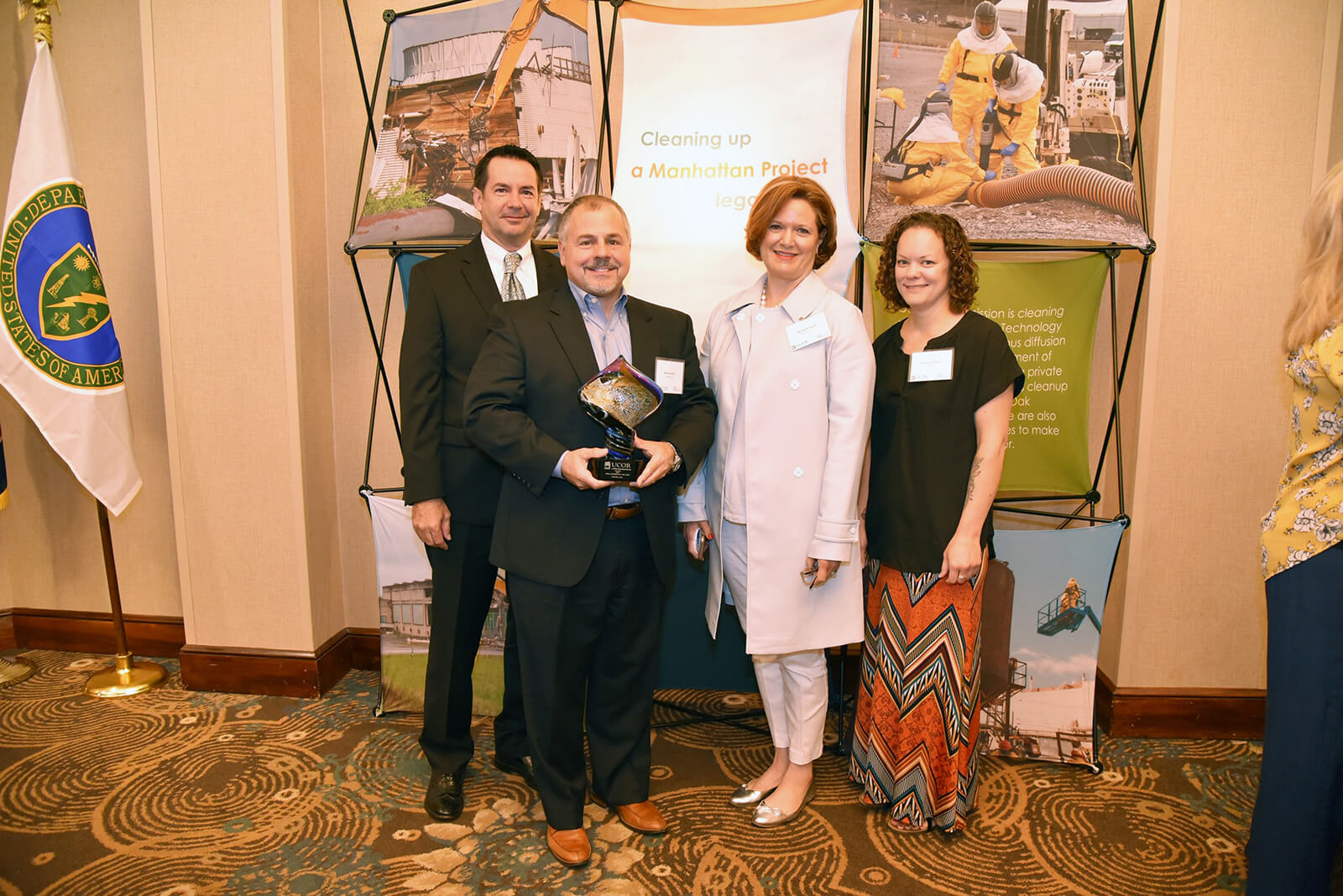 Caption: PacTec, Inc. receives the 2019 Small Business of the Year Award for the third time in the program history by UCOR, an AECOM-led partnership with Jacobs. Pictured are PacTec's Bill Smart - Director of Nuclear Sales, Mike Sanchez - Nuclear Division President and Meredith Smith - Nuclear Business Development Manager accompanies by UCOR's Jessica Johnson who nominated PacTec for the honor.
UCOR is responsible for cleaning up East Tennessee Technology Park, a former gaseous diffusion plant that DOE is converting into a private sector industrial park. UCOR also performs cleanup work at other Reservation locations, including Oak Ridge National Laboratory and the Y-12 National Security Complex. "Small businesses like PacTec play a crucial role in keeping us on track to achieve Vision 2020 – the goal to be the first site in the world to successfully complete cleanup of a former enrichment complex next year," stated Ike White, Head of the Office of Environmental Management.
Since 2008, PacTec engineers and research & development teams have worked with UCOR to design and manufacture custom packaging solutions to safely handle and dispose of demolition debris from the site.
Jessica Johnson, Purchasing Specialist for UCOR who nominated PacTec for the award says, "they have really come through for us with waste packaging and met project expedited needs several times and we really appreciate their help."
"We are honored to receive UCOR's Small Business of the Year award. These moments fuel our passion to innovate and develop solutions that make both PacTec and our partners successful," said Mike Schilling, PacTec, Inc. President and CEO. "Our relationship with UCOR has made PacTec a better organization."
UCOR recognizes companies that set the standard, raise the bar, and distinguish themselves from their peers. This includes those subcontractors who best demonstrate a shared vision and commitment with UCOR for safety, excellent performance, diversity, and customer satisfaction.