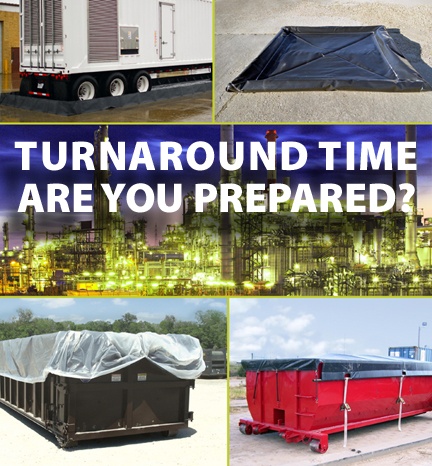 Industrial Plants, Refineries, Wastewater Treatment facilities and the like are all gearing up to perform scheduled maintenance tasks this quarter and have turned to PacTec year after year for cost-saving solutions to their waste packaging needs.
Whether you are performing a planned unit shutdown, scheduled maintenance, outage, or turnaround, we can provide you with innovative products to help you stay on schedule AND on budget. Here are some of the products we have readily available:
Our TransPacs® are the ideal solution to collect waste or process residuals quickly, safely, and efficiently into containers. These roll off size bags can either be spouted to match your discharge chutes or open top for easy loading of materials before beginning your turnaround. Best of all, if you wish to reuse the material, the bags can be safely stored onsite, or hauled off for disposal if necessary.
These bags are ideal for collecting powders, high heat discharge, metal shavings, even high-moisture content materials like sludges. They can be used for a variety of process wastes, and we keep many in stock for quick delivery. We can also customize solutions for you if your job requires certain specifications.
Leaks, spills, and liquid discharges from equipment is never good, and can be more dangerous during a turnaround given the increased personnel on site. To safeguard against these hazards, your maintenance plan should include proper spill containment. Whether you are looking for spill berms to rest under equipment being disassembled for cleaning or repair, or need secondary containment, look no further than PacTec.
In addition to an ample supply of ready-to-ship standard sizes, we can custom manufacture spill containment berms to your exact specifications. Protecting the soil and groundwater from unplanned spills is paramount to maintain a clean OSHA record and have a zero-incident turnaround, and we are ready to help you meet those goals.
We also offer drain guards (sewer covers) to prevent contaminants from entering nearby waterways.
If your scheduled maintenance event involves tank cleanouts, lagoon dredging or any other process where liquids and solids need separating, PacTec offers many ideal solutions for you. We take your waste minimization needs seriously and have many filtration products to help you achieve your goals.
If you are looking to dewater large volumes of sludges, a geotextile tube is probably ideally. Once the sludge is pumped into the tube, the pressure combined with gravity allow the liquids to escape while capturing the solids. We also offer many dewatering filter liners that can be used in your existing dewatering or roll off boxes to efficiently capture the solids for disposal or reclamation.
PacTec has been manufacturing filtration solutions for nearly 3 decades and have become experts in geotextile dewatering. Our team can assist you in planning, executing, or budgeting for your next dewatering project.
PacTec's disposable polyethylene container liners offer a revolutionary design that ensures a form fit every time because it positions all liner seals outside of the container, providing exceptional leak protection to transport solids and sludge wastes safely and securely. The TransLiner® may also be fitted to cover the load which aids in dust and odor control.
Turnarounds typically cause a great deal of materials and waste to be carried off site, and no one wants leaks. The most cost-effective solution is a disposable liner in every roll off, truck, dumpster, and other container to prevent this hazard.
We keep them in stock at distributions facilities across the US, so an order is no more than a few days from your site. Give us a call if we can get an order in for you.
The simplest way to prevent airborne or loose particles from escaping a hauling load is to cover it, and our tarps are made to do an excellent job. We offer a variety of designs and material options to outfit your containers and have a full line of accessories to outfit your fleet.
Plus, they work with many auto tarping systems and are often more durable and affordable than other on the market.
To get a price quote or place an order, please give one of our knowledgeable sales professionals a call today at 1-800-272-2832 or submit a quote request online.